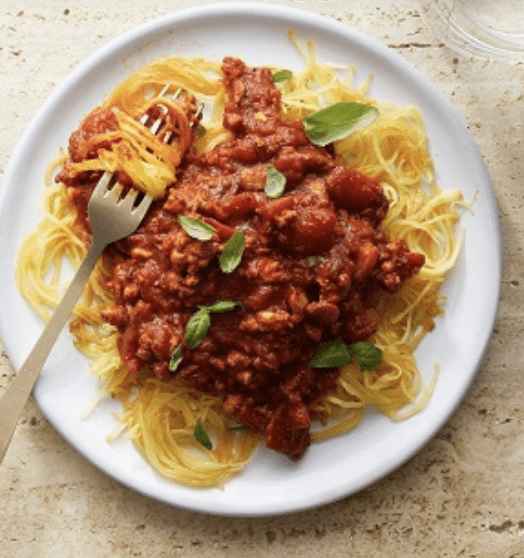 13 May

LOW FODMAP SPAGHETTI SQUASH TURKEY BOLEGNESE
This is definitely one of my favorite dishes! Did you know spaghetti squash is an excellent source of dietary fiber and B-complex vitamins such as folate, niacin, vitamin B6? It's also a sodium free food that's low in carbs, is 10 times lower in calories than pasta, and higher in protein!
Here is the low FODMAP version
Healthy Spaghetti Bolognese 
YIELD: 4 SERVING
TOTAL TIME: 30 -40 minutes
INGREDIENTS:
1 spaghetti squash
2 tsp. garlic infused extra virgin olive oil
Salt, pepper
1 lb. extra lean ground turkey
1/2 cup of chopped green onion ( Green part only )
1 bell pepper, diced
3 cups fresh diced tomatoes (or 2 15-ounce cans)
1 , 15oz can of low sodium tomato sauce ( check ingredients to avoid onion and garlic)
Fresh chopped basil
Grapeseed oil cooking spray .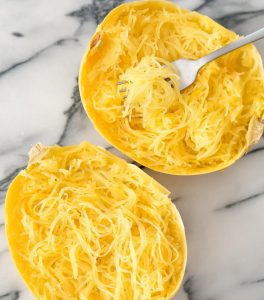 DIRECTIONS:
Preheat oven to 400.
1. Cut spaghetti squash in half lengthwise and remove seeds
2. Coat each half with a teaspoon of olive oil and a sprinkle of salt and pepper
3. Place skin side up on a rimmed baking sheet and cook in for 35-40  until tender.
4. Cool and gently scrap out the squash.
At the same time
5. Add large non-stick skillet, lightly coated with grapeseed oil, to burner and place over a medium-high heat, continually stirring with a wooden spoon or spatula so that the turkey is broken into small crumbles.
6. Once the turkey has browned, push it to one side of the pan and add in the green onion and pepper.
7. Cook for about 8 minutes until veggie soften
8. Mix the veggies and turkey together.
9. Add in diced tomatoes, tomato sauce and salt and pepper to taste.
10. Simmer for approximately 10 minutes, then top with fresh basil
11. Serve over spaghetti squash and enjoy!