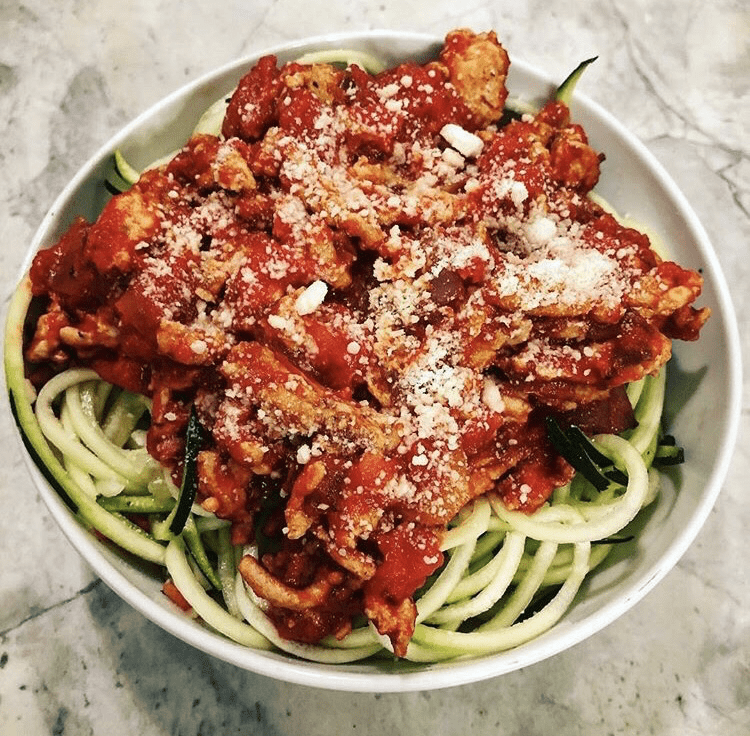 02 Jan

SARAH'S LOW FODMAP ZUCCHINI NOODLES BOLOGNESE

YIELD: 4 SERVING
TOTAL TIME: 30 -40 minutes

INGREDIENTS:

8 zucchinis
1 Tbsp. extra virgin olive oil
Salt, pepper
1 lb. extra lean ground turkey
1 Jar Prego Sensitive Sauce
1 Jar Rao's Sensitive Sauce
Fresh chopped basil
Grapeseed oil cooking spray

DIRECTIONS:
Add ground turkey to a large non-stick skillet, lightly coated with grapeseed oil, to burner and place over a medium-high heat, continually stirring with a wooden spoon or spatula so that the turkey is broken into small crumbles.
Once the turkey has browned, push it to one side of the pan and add Zucchini Noodles
Cook for about 5 minutes until the squash begins to soften, then mix the zucchini noodles and turkey together.
Add in 1 cup of the Prego sauce and 1 cup of the Rao's Sauce
Simmer for approximately 2 minutes, then top with fresh basil
Plate and enjoy!
NUTRITION (per serving): 350 calories, 30 g protein, 15 g carb, 8 g fiber, 3 g sugars (0 g added sugars), 6 g fat (1.5 g sat fat), 80 mg cholesterol, 450 mg sodium